I have encountered Egly-Ouriet in 2006 for the first time and back then it was at the verge of grand recognition by all wine critics and bubble enthusiasts. It was also around that time that more and more of us were looking at alternatives instead of the grand marques (Moet, Veuve, LP..) not that they are not important or not good for that matter, as a matter of fact they are super important towards the Champagne market. As we all know how many bubble producers outside the region of Champagne would love to call their product Champagne! It is the power and strength of the grand marque that keep Champagne the way it is today, a unique brand. It stand in a league on its own and there is nothing more fantastic than a true Champagne. So with the success of Champagne growing (the financial crisis gave a serious hit but the market is recovering pretty well), there are more and more smaller Champagne houses that have been working around the clock to guarantee that their Champagne is loved adored, appreciated and wanted
Many top restaurants have also been adding more Champagnes to their wine lists as more and more customers want to drink that little house so unique not all can experience. Today some of those house can not even keep up with demand and waiting lists are the only chance to get your hands on one of these great terroir, boutique champagnes, I call them.
So who is Egly-Ouriet
Egly-Ouriet Ambonnay
The house was born in 1930 and the current member of the family Francis who took over from his father in 1980 is the fourth generation. Initially his grandfather and father sold their grapes to other houses as many do but since Francis took over he stopped doing that, as he knew the potential the terroir held to make exceptional champagnes. Today he holds about 12ha of land, 8 of which grand cru in Ambonnay, 2 ha premier cru in Vrigny, 1ha grand cru in Verzenay and 1 ha grand cru in Bouzy, so beside Vrigny which is still premier cru all his champagnes are Grand cru. He works with 65% Pinot Noir, and 30% Chardonnay 5% Pinot Meunier. He is also like a few other total biodynamic, organic or as they say the living soil principle of viticulture. He is also one of the few that harvest his grapes quite ripe and at times 12 to 13 degrees alcohol, which changes the dynamics of the champagne into a fuller richer but greatly balanced style, creating Champagnes for dinner tables and not for dripping it over naked females to impress the crowd. Also his yields are very low and he cuts excess bunches before final ripening and vines average aged over 40 years are all aspects that are truly important to him.
His vision is "lutte raisonee" (reasoning thinking) to reduce a maximum use of potential chemicals. Good work in the vineyard to control yield and maximise ripeness is the absolute key to make great champagnes. He is a man that worked on a vision of making champagnes long time ago while many considered then it to be lunacy and ridiculous. Today many wine growers in Ambonnay would like his practice to be spread throughout the whole commune, but mr Egly is a very single minded man and believer in what he knows doing best, creating a champagne so unique and so crafted it envies many today.
The collection of Egly-Ouriet has such great variation and character that there is a bottle for every palate.
Egly-Ouriet Champagnes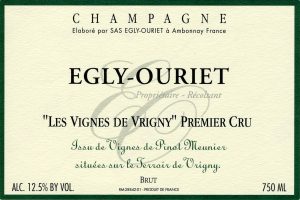 Egly-Ouriet Premier Cru "Les vignes de Vrigny" NV
100% Pinot Noir from 40 year old vines in the premier cru village of Vrigny, 50% 2011 and equal parts 2010 and 2009.
This is the first time that the wine is blended from three different vintages, giving the wine more complexity than ever before. Of course each year the vintages will change.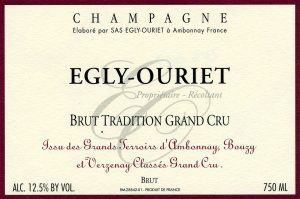 Egly-Ouriet Grand Cru Brut tradition NV
70% Pinto Noir 30% Chardonnay.
90% coming from Grand Cru Ambonnay with the rest coming from Grand Cru Verzenay and Bouzy
Partly fermented in barrels (50%).
50% 2010 and equal parts of 2009,2008 and 2007.
48 months aged on its lees.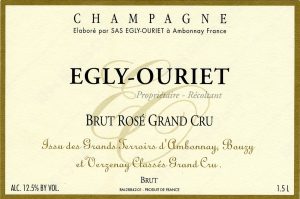 Egly-Ouriet Grand Cru Brut Rose NV
70% Pinot Noir, 30% chardonnay with the addition of 5% Ambonnay rouge 2009.
90% Grand Cru from Ambonnay with the rest coming from Grand Cru Verzenay and Bouzy.
50% 2010 with equal parts from 2009, 2008 and 2007.
48 months aged on its lees.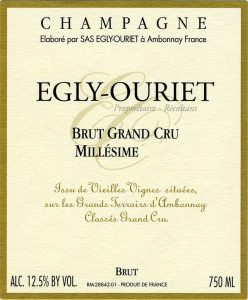 Egly-Ouriet Brut Grand Cru Vintage 2005
100% Grand Cru from Ambonnay.
75 Pinot Noir and 25% Chardonnay from 50+ year old vines.
Vinified in barrels, 25% of which were new.
Aged for 96 months which is 8 years on its lees.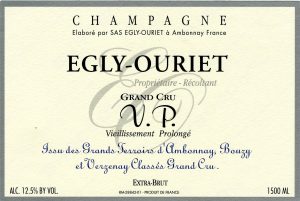 Egly-Ouriet extra Brut Grand Cru V.P NV
70% Pinot Noir and 30% Chardonnay.
90% coming from Grand Cru Ambonnay and the rest coming from Grand Cru Verzenay and Bouzy.
Equal parts from 2007, 2006 and 2005 harvest.
V P stands for vieillissement prolonge or extended ageing, aged for 84 months on its lees.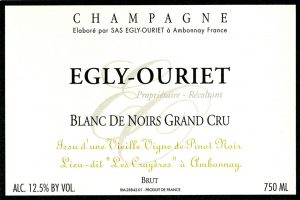 Egly-Ouriet Blanc de Noirs Grand Cru "Les Crayeres" NV
100% Pinot noir from the legendary Les Crayeres vineyard in Ambonnay.
Sits only on 30 cm top soil before hitting pure chalk.
70 years old vines.
Completely barrel fermented.
This cuvee is 60% 2007 and 40% 2008.
Aged fro 60 months on its lees.
There are a few houses that stand in line with Egly-Ouriet as truly outstanding and pure identity of terroir and vision of a wine maker. For those who have not yet heard or heard of it but haven't had the chance to taste it, it is about time as production isn't big and not easy to get your hands on.
Knowing that in 2015 Champagne produced 312.5 million bottles and Egly-Ouriet's productions is about 100,000 bottles, we truly speak here of a micro stunning cuvee production.
Until next time please do drink responsibly.