Spain has been producing great wines and the world knows about it, here is another little treasure you have to discover
Berta Franquet,is a family business founded by Enric Sabate Vendrell. The two sons of the founder Enric jr and Josep Maria Sabate are also part of the enterprise.
Priorat
But first a little bit on the region Priorat. Priorat lays in the district of Catalonia, with as major city Barcelona of course, Steeped in tradition and pride it is also a region with much wealth and stubbornness, although much to their credit it still sits these days better inside Spain then outside.
Before the reunification of Spain in 1492 (interesting date, year of Columbus discovering the Americas) Catalonia, was an independant state, as there were so many around Europe at that time. It is from around the 12th Century that the region is referred to as Catalonia. Priorat lays to the south of Barcelona about two hours drive and yet the rocky hills of Priorat region makes you feel miles away from any civilized city. Here wines express pronounced and intense notes, even so I find it always a bit strange to use the term minerality in red wines, here cause of the slate soil (in certain parts of Priorat) the term mineral is used to express the wine.
The vines here are planted on steep slopes so machine harvest is all but not possible, so those poor men and women who have to harvest those grapes must have backs of solid love for these wines. If you have ever been to the Douro valley then you should know what I mean by steep?
Here vines are planted from 100 meters above sea level to 700 meters above sea level. The Garnacha and Carinena grape thrive here but international grapes such as Syrah, Cabernet-Sauvignon, Merlot are used as well.
Priorat's best wines are concentrated and intense full of character, due to the low yield from the harsh condition the region has to endure. Priorat has grown to become one of the most searched and expensive wines in Spain. Some of the top winemakers have vineyards here and many young talented wine makers look for land to grow vines as here you find a character in the wine rarely found anywhere else.
Berta Franquet Priorat 2010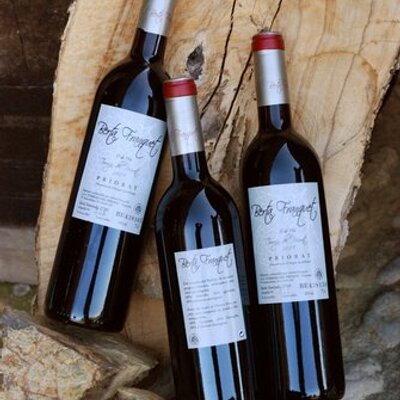 All the land from this domain is situated within the municipality, inscribed in the Denominacio d'Origen Qualificada Priorat, and it takes extra pride into have its wine been qualified as "Vi de Vila" a new quality seal approved in 2009. Here they elaborate the wines still according to some old methods and traditions, and the house produces only about 14,000 bottles a year for domestic and international markets.
Price: €31 $35 $24.50
Alcohol: 14%
Grapes: 40% Carinena, 30% Garnacha, 30% Caberent-Sauvignon. Organic farming
Visual: Intense dark almost black red colour. Powerful, very masculine, once swirling around in the glass, beautiful warm dark reds appear, giving the wine great elegance and dominance. The brilliance is fair(not expecting too much acidity), the transparency looks very good. At sight a wine slightly intimidating due to its presence but on the other hand it stands there with open arms inviting you to dare.
Nose: First notes are big, leather-like, with waves of warm ripe dark fruits, black cherries, plums, black tobacco and cacao following. It smells rich and good balanced oak (American oak), leading to spices and hints of coffee. A nose that changes the more it receives oxygen, with fruits and spices in abundance, a wine not backing off and from its first glance certainly so far not a disappointment.
Palate: the attack is vivid and intense, with black fruits, blackberries, black cherries as prime, followed by spices and chocolate. Tannins well present but soften, acidity not strong but predicted, mid palate the wine is warming up nicely and intensifying, it pulls well down to the back of the palate with a very longer linger, with cacao and coffee, little liquorice making the final touch.
Conclusion: Yes another wine I did not heard of since recent and it sweeps you off your feet, with charm, character, identity and emotion. All a wine should give, and more really, this sits well with all meats, wild, even some intense cheeses (although white wine with cheese is a preference). A pleasant surprise from a region in Spain certainly setting its mark in the world of wine with pride and style. Not cheap on the buy, but for what's inside the bottle, is truly remarkable and so price is more then justified.
Score: I rate this wine 19/20 90/100
Until next time please do drink responsibly.