A couple of nights ago I had once again the chance to taste Château de Fondbel from St-Emilion but this time the 2009 vintage, a vintage we all know as a stellar vintage, especially for Bordeaux.
It is true that 2009 and 2010 have shot for many Bordeaux lovers a massive hole in their pockets as the wines have reached stratospheric prices. Our granddads and fathers remember prices for those top monsters to be so affordable compared to now (regardless of the vintage, the top growths have been rising ever since), that they can hit themselves against a brick wall now, as if they knew, today they would be reaping the benefits, it would be so ridiculous.
Vintages like these are on one side good for any brand as we all want to sell our products at the best price, whatever we might say think or criticise. But prices are set to markets demands and I know all world suppliers will always say; "to expensive" whatever the vintage. They see their share in profit going down as with all there is greed, (some will find any excuse to justify their price), capitalism doesn't make necessarily a good being from us. Today compared to 10 years ago, many suppliers will say that they do not make much money out of the en-primeurs, so why still bother with it then?.....(....because there is demand)
The Château's for centuries work with negociants, as then at the time it was the negociant that finished of the wine, bottle it and then sold it. Now those negociants are on a cross-road as many Château's have seen how greedy they have become (Bordeaux has never been so popular globally as in the last 15 years), one big name has already pulled itself out of the game, but the greed seems to come along and prices do not change.......how can Bordeaux manage itself towards the future?
However much it is turned or twisted, it is time for the suppliers expert to know how to find wines and know how to promote. Have the knowledge of the product is vital, which wasn't necessary the norm before. You always will have the label drinker who will always buy the top growths, although he/she will most certainly take on a fight to make sure that the neighbour does not get a better deal. Typical with the too much money ones, they have a constant feel of being ripped off, or that it is due they should get these wines at a bargain price, without understanding that supply is limited and the world got bigger in terms of punters able to afford those wines, so it ain't gonna get any cheaper ever.
But here is a wine that is very famous in the wine circle and still holds a price we all can afford (for now). Yes Château de Fondbel St-Emilion is in the hands of a family that know certainly how to make A wine.
Chateau de Fonbel St-Emilion Grand Cru 2009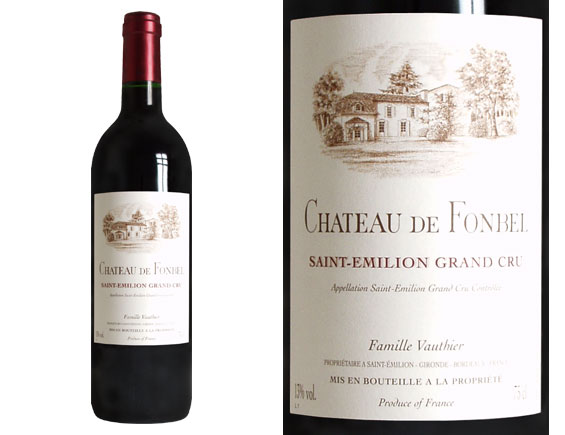 The Vauthier family, bought Fonbel in 1971, they own also Château Ausone, a St-Emilion Grand Cru Classee A and Château Moulin St-George in St-Emilion as well. Fonbel has actually a long history back to the time of the Romans, where actively grapes where grown and cultivated for the making of wine in St-Emilion.
Fondbel has 16 hectares of vines, with a terroir of clay, sand and gravel. The vineyard is planted of 70% Merlot (the most planted grape in St-Emilion and Pomerol), 20% Cabernet Sauvingon, 7% Petit Verdot and 3% Carmenere, which represents the largest planting of Carmenere on the right bank, and one of the largest planting in Bordeaux. Even the Petit Verdot planting is amongst the largest even the largest on the right bank.
The vines have an average age of 20 years, which is aiming for wines with strength, power, vivacity, crispy fruits, playful and joyful. In older vines the elements change and the characters of the wine evolve and express a total different personality. The blend of the this wine is very similar to the percentage planted.
The wine of Fonbel is vinified in big stainless steel temperature controlled vats, the malolactic fermentation takes place in the vats as well. Then it is aged in 30% new oak barrels for about 10 months before it is bottled.The wine of Fondbel is produced by the same team as Ausone, the young Pauline Vauthier is slowly but surely taking a more active role, while Alain Vauthier is slowly taking a step back, giving way to the new generation. Château Fonbel is producing on average about 8,000 cases of wine, which is about 96,000 bottles.

Grape variety:
70% Merlot, 20% Cabernet Sauvignon, 7% Petit Verdot 3% Carmenere
Alcohol:
13.5%
Price:
€22 $25 £16
Visual:
Ruby red colour, good limpidity, good brilliance, masculine, powerful, but with a little air of dirty boy (its appearance, its limpidity not entirely clean), heavy legs, a wine with a good attitude.
Nose:
Caramel (toffee), oak, black fruits (blueberry, blackberry), little plum, tiny hits of ethanol, violet, and layers of spices bur not prominent, discreet (vanilla, pepper)
Palate:
Fresh, round tannins, a perfect time to drink now, acidity and aromas are in good harmony, fairly dry, good mid-palate and long finish with raisins on the back palate.
Conclusion:
exactly what to expect from the Ausone estate team, a lot of love and passion runs through the veins of this wine. The drive in this wine is remarkable and the use of Petit Verdot and Carmenere is definitely noticed, it taint a different identity to the tradition that St-Emilion is known for. A classic version wine and very good value for money, a wine surely on the rise so while you can do lay your hands on some of it.
Score:
I rate this wine 18.6/20 86/100 (rated as a very good wine)
Even so the Bordeaux wines are maybe for many become a vision of our imagination, there are truly some still out there that we all can afford, this is one of them and it is really pleasure in a glass.
rating system
19.6-20 exceptional
19-19.5 excellent
18-18.9 very good wine
17-17.9 good wine
16-16.9 fair wine
15-15.9 drinkable wine
14-14.9 acceptable wine
Until next time please do drink responsibly.