It is not so often that you encounter a small Champagne house that set halt in your tracks, where you observe and reflect, where a gentle smile appears in the corner of your lips and you feel the urge to open the bottle. When I had the chance to taste and discover Nicolas Maillart Champagne, I could not have such an opportunity to wait.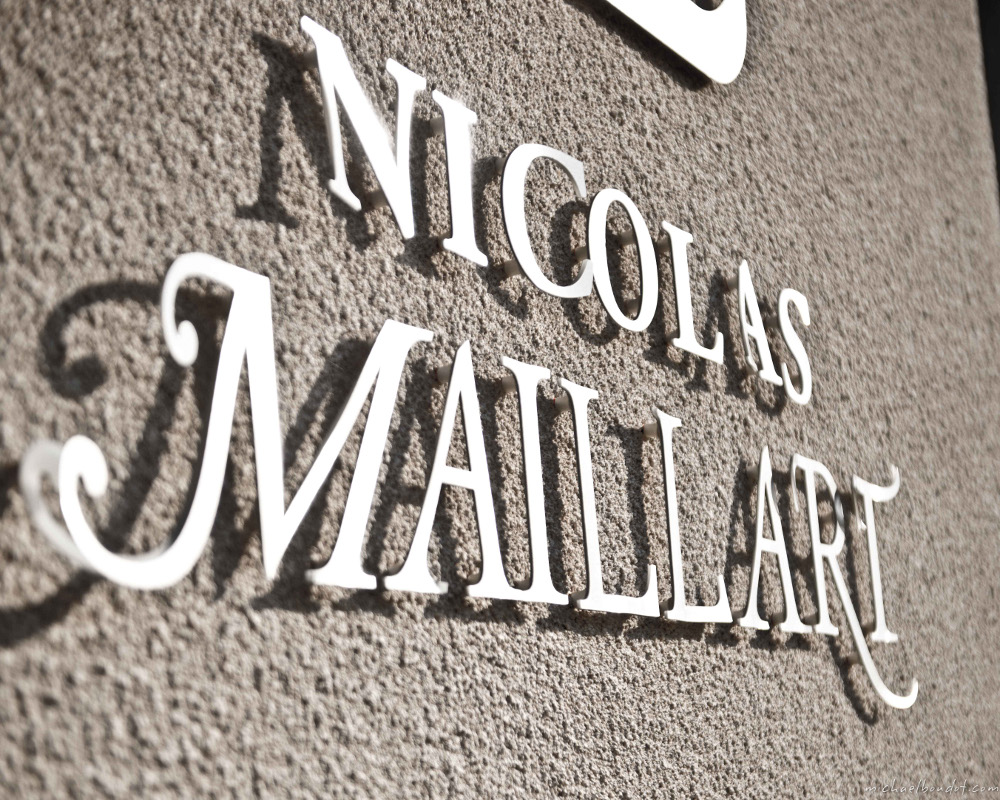 This house is truly not big they only produce 150,000 bottles out of 18 hectares of land. The house exist since 1753 and as most recoltants (harvesters) at that time, they distributed their grapes to the big houses and that during decades before starting to make their own wines. In 1965, Michel Maillart took over and he created his own brand "Champagne M Maillart" and produces about 50,000 bottles per year from de cooperative he was associated with. But in 2003 Nicolas Maillart the night generation decided to launch himself solo away from the cooperative and invested big in a new winery, new work utensils, and new ways to work the vines. Now 11 years later, he is part of the winemakers in Champagne where we talk the most of, a young man creating a great Champagne.
The House Maillart, has several cuvees 6 to be precise, they have also 2 other wines a Ratafia (a liquor wine)and a fine de Marne (is a spirit similar to cognac) but they are not champagnes, also not many house make these wines either.
The Platinum Extra Brut Cru, predominately Pinto Noir grape with a touch of Chardonnay and some reserve wines.
The Brut Platine Extra Brut Premier Cru, the one I will taste so elaborate a bit later in the blog.
Brut Rose Grand Cru, 70% Pinot Noir 30% Chardonnay, 52 hours of skin maceration to obtain the colour. A slow and gentle pressing using gravity techniques.
Brut Millesime Premier Cru, Pinot Noir 65% 35% Chardonnay, A single vintage champagne made only from the first press.
Les Chaillots Gillis Premier Cru, 100 % Chardonnay, A champagne from a specific area in the cote de Blanc and from old vines. Only produces in great years with a limited quantity.
Les Francs de Oied Premier Cru, a rarety a this comes from a specific area of old vines of the Pinot Noir ungrafted on sandy soil. Very few can offer a chanpagne like this and here as well only produce in good years and limited quantity.
As you can see the house holds some truly stunning characters in their collection. For those who do not know this house, well you know what to do.
Champagne Nicolas Maillart Brut Platine Premier Cru.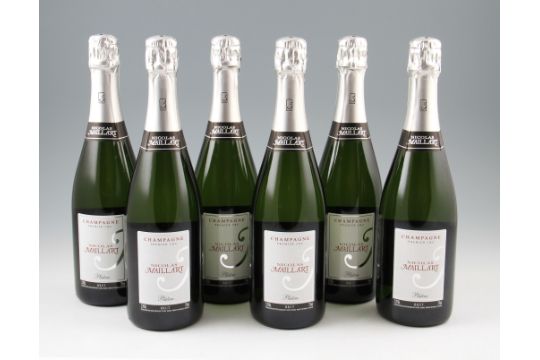 This Champagne is made out of 80% Pinot Noir 20% Chardonnay, of which (40%) reserve wines, matured in oak barrels, which gives a great regularity in their wines. It is aged about three year on its lees, to develop all of its richness.
Where to buy: pretty much available in the USA, UK, Hong Kong, Europe.
Price: around €32 , £25 $41
Visual: A light golden colour with little fine beads close packed one to another, gives this champagne, a personality. It distinguished itself from others and looks very inviting.
Nose: Hazelnut, almonds, toasty like toasted brioche, oak, fruits, ripe peach and pears, clean layers of aromas giving it a beautiful complexity an d identity.
Palate: light gentle and dry, crisp, fresh and seductive, i receive appels and pear and peach very faint, oak appears en rounds de champagne although it turns toward a dry champagne which doe snot give to much room for roundness. It is little sweet and performs a certain seduction.
Conclusion: A champagne really to discover, one to put on your list. A champagne with attitude, character, and identity. It is beautifully made although some might find it too dry and not rich enough, but you have to sip this wine and let it talk to you, take a moment and le if be what it is. It is a great example of the work done between steel and oak, it is lovely enjoyable and defintely recommending.
Score: I rate this wine 18.5/20 85/100
Until next please do drink responsibly, can't express enough.