This section of our quest in fine tuning our nostrils and memorizing the smells and aromas, is animal characters. Surprisingly you will discover that many wines do hold notes of animal scent. As you will discover along the way there are naturally more animal aspects in red wine but you will occasionally find it as well in some white wines even rose's.
The Animal in wine indicates that wine is a natural element depending on its environmental surroundings and that even so with the much needed human intervention to make wine, it is truly the terroir and grape that will define the outcome of a wine. There are about 8 different animal smells detected in wine.
The composition perfumer of ambergris is a substance formed in the stomach of the Sperm whale Physeter macrocephalus. We find them in the mammals stranded on the beaches of New-Zealand, Africa, Indonesia, Brazil, and Norway.
Once of great value, ambergris isn't commercialized any more, as the sales of the components of the Sperm whale is forbidden. In perfume it is still used very often but principally from synthetic origins. Ambergris is often confused with the tear of a fossil resin.
The principal components
Smells/ Molecules
Ambergris: Aplha ambrinol, Ambreine, Muscone, Palmatic acid.
Wines containing relevant notes of Ambergris
We can find back facets of Ambergris in several types of wine, especially those made with Montepulciano, Pinotage, Sangiovese, as well in old wines particularly the reds.
Smells close to Ambergris
Castor, Beeswax, Leather, Hay, Iris, Jasmine, Musk, Narcissus, Carnation, Venison.
The composition perfumer of Castor is a secretion of the sexual glands of the European Castor fiber. These glands are situated between the back legs near the tail. Originally from Europe, this rodent is found all over Europe, Mongolia, and Siberia.
The secretion of Castoreum (Castor) prevents it from becoming submerged, it also delineate it territory. Frequently used in the middle ages, the Castoreum powder was considered as a miracle remedy in many diseases.
Principal components
Smells/ Molecules

Castor: Benzoic acid, Muscone, Acetophenone, Indol, Benzilic Alcohol, Ethyl phenol.
Wines containing notes of Castor
Castoreum only confined itself to smell (bouquet). Red wines like Mouvedre, Bonarda, Gamaret, Garanoir, Nerello, Mascalese, Pinot noir.
Sometimes after some years of ageing we can note tones of it in white wines.
Smells close to Castor
Amber gris, Leather, Orange flower, Hay, Jasmine, Musk, Narcissus, Horse sweat, Green Tea, Peat, Venison.
Beeswax
We extract the absolute of beeswax by alcoholic extraction, from the common bees wax, "Apis mellifera".Originated from Africa, this insect is today present all over Europe as well as in Asia.
According to Greek mythology, Icarus and his father Daedalus who were locked up inside a labyrinth created by Minos. Their way to escape was to create wings from feather glued together with beeswax. Despite instructions from his father, Icarus flew too close to the sun, which made the beeswax melt and crashed into the sea, drowned and died.
Principal components
Smells/ Molecules

Beeswax: Palmatic acid, Ceroleine, Linoleic acid.
Relevant wines containing notes of Beeswax

Beeswax is one of the principal notes of evolution in rose and white wines. We also detect Beeswax frequently in sweet white wines. Sometimes it might appear in young wines made of grapes like, Assyrtiko, Chardonnay, Falanghina, Mauzac, Petit manseng, Pinot gris, Savagnin blanc, Semillon, Sylvaner Viognier....
Smells close to Beeswax

Amber gris, Oak, Hay, Broom, Jasmine, Narcissus.
Civet
The composition perfumer reproducing the smell of the Civet is the anal gland secretion of the Viverra civetta. Originally from Abyssinia (Ethiopia), this small carnivorous mammal lives in Africa and Asia.
It is a product who's use is very old, Cleopatra already used regularly the secretion of Civet. A very rare coffee "le Kopi Luwak" from South-east Asia is produced by the Civet digesting pulp grains in its stomach, which is harvest in the faeces of the animal.
Principal components
Smells /Molecules

Civet: Civettone, Scatol.
Relevant wines containing notes of Civet

Like other animal smells, this of the Civet is frequently a sign of evolved wine, as much for white, rose and red. It can also be present in young wines at times, as in those made from Cabernet-sauvignon, Pinot noir, Nerello mascalese.....
Smells close to Civet

Amber gris, Musk, Venison.
Leather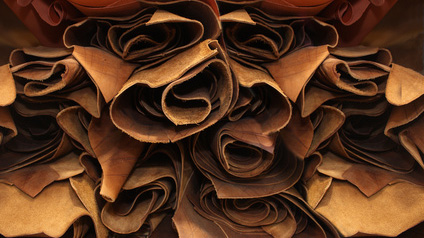 The composition perfumer of leather is obtained by tanning the skin of different animals, predominately Cattle and Swine (Pigs).
Leather dates back to the origin of humanity, although leather objects have not resisted the Millennia. We have discovered objects that served for working animal skin and bones showing traces of skinning. In Greek mythology there was a large lion (Nemean Lion), whose hide was impervious to weapons, which plagued the district of Nemea in the Argolis. King Eurystheus commanded Herakles to destroy the beast as the first of his twelve labours. The hero cornered the lion in its cave and seizing it by the neck wrestled it to death. He then skinned its hide to make a lion-skin cape, one of his most distinctive attributes. Hera afterwards placed the lion amongst the stars as the constellation Leo.
Principal components
Smells /Molecules
Leather: Muscone
Relevant wines containing notes of Leather

Leather is a not of excellent evolution for most of the time, leather detects fairly rapidly according to the grape used in the wine. The wine taster can despite smell notes of leather on young wines elaborated from, Cabernet franc, Cabernet-Sauvignon, Carmenere, Chardonnay, Humagne rouge, Malbec, Merlot, Mouvedre, Nebbiolo, Syrah, Tannat, Tempranillo, Touriga Nacional......
Smells close to Leather

Amber gris, Castor, Jasmine, Musk, Narcissus, Venison.
Musk
The composition perfumer of Musk is a secretion coming from the abdominal gland, the Chevrotain or Port-Musk Moschus moschiferus. Originally from the Himalayas, you can equally find it on the high plateaus of Asia and Siberia. The practise to obtain the substance of Musk is forbidden, the animal is killed and an alcoholic extraction is conducted on its secretions to obtain after filtering the tincture of musk.
Today most natural musk are replaced by synthetic musk. We attribute since a long time aphrodisiac characters to musk, as it contains a high content of Pheromones. In certain Arab countries, men sometimes wear it, most of the time hidden, in hope to benefit from its effects.
Principal components
Smells /Molecules
Musk: Muscone
Relevant wines containing notes of Musk

Musk let its animal characters been detected on many grapes such as, Lambrusco, Merlot, Mouvedre, Riesling, Syrah, even on the Amarone wine. Old white, rose and red wines can reveal notes of musk along its lifeline.
Smells close to Musk

Amber gris, Castor, Leather, Jasmine, Narcissus, Venison.
Horse Sweat
It is the synthetic molecules that reminds us of horse sweat. It is a molecule principally produced by the yeasts Brettanomyces spp. These yeast can produces characteristics in certain beers, like the Lambic beer, or a beer of spontaneous fermentation like the Gueuze and Kriek beer. Certain interpretations of this molecule, describe it as pharmaceutical, close to the smell of plaster, even reminding of gouache.
Principal components
Smells /Molecules

Horse sweat: Ethyl Phenyl
Relevant wines containing noted of Horse Sweat

Considered for most of the times as a default by winemakers, the smell of horse sweat is capable of hiding the intensity of other aromas, even if it represent a very faint concentration. Nevertheless a very faint concentration can help participating at the complexity of the wine. We can encounter it in different grape varieties, like Cabernet-Sauvignon, Carrignan, Merlot, Mouvedre, Primitivo, Syrah......
Smells close to horse sweat

Castor, Leather, Narcissus, Peat.
Venison
The composition perfumer of Venison consists of the flesh of big wild game, deer, suede, roe or wild boar. Once venison came only from hunted animals, but these days it isn't rare to find some from farmed provenance. Today open to pretty all social classes well almost all, hunting was a privilege almost exclusively to nobility and the clergy during the middle ages.
Principal components
Smells /Molecules
Venison: Muscone, Civettone
Relevant wines containing notes of Venison

Often very distinguished of other perfumes, venison can often flair up in old red wines. Also in wines elaborated from grapes like Cabernet franc, Gamaret, Garanoir, d'Humagne noir, Merlot, Mouvedre, Nebbiolo, Sangiovese, Syrah and sometimes Tempranillo...
Smells close to Venison
Amber gris, Castor, Civet, Leather, Musk.
So here another chapter to get closer to grips with wines and its perfume, till next time please do drink responsibly.